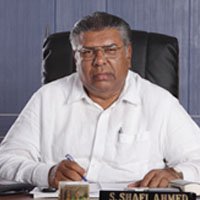 Mr. S. Shafi Ahmed, Chairman
H.M.S Education Society (R), Tumkur (Karnataka) has a long history of two decades in imparting Technical, Para Medical and General Education for the benefit of eligible candidates in India and abroad.

The society was established during the year 1980-81 by veteran Educationist Dr. S. Shafi Ahmed, founder Chairman of the Society. He is the driving force behind all the developments of the society. To begin with, in 1980, a polytechnic was started with just four branches. Four more branches were added subsequently. Since then, under his able leadership, the H. M. S Education Society has never looked back. To educate more people and to keep up pace with the new Technological development, new Colleges and Schools were opened.

Today H. M. S Education Society is a household name in the field of Education in Tumkur. It stands apart for its quality Education for the diversified courses it offers in the field of Technology, Para-Medicine etc. More than 3000 students from all parts of India and abroad are studying in its campus right from L.K.G to Graduation & Post Graduation courses.